Fresh blood on the Factry floor: four new employees joined our team
Frederik Van Leeckwyck on , updated
In only three months time, no less than four fresh team members have joined us on our mission. About time we properly introduce them. Who are they? What are their talents? Their ambitions? And why did they decide to join us? Meet the new Fabulous Four on the Factry floor: Bart, Jeroen, Wannes and David.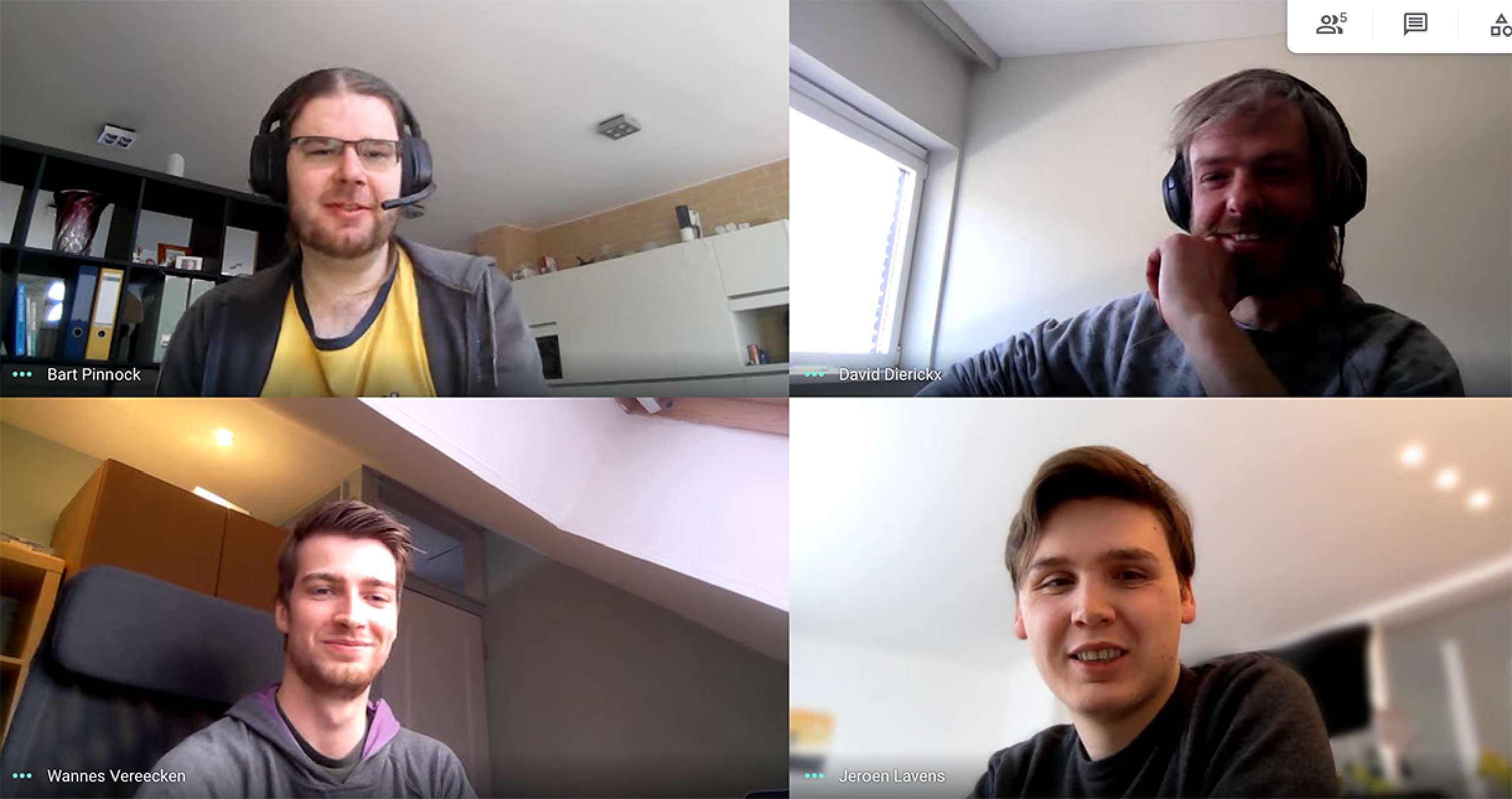 Ever wondered what a Lindy Hop dancer, a hobby stock broker, a youth movement mentor and a classical art expert could have in common? They all just landed a job at Factry. Fortunately for us, these are not their only qualifications. Say hello to our new Software Engineers David and Wannes, Project Manager & scrum master Bart, and Technical Consultant Jeroen. Learn what they are all about and which value they add to the team.
Bart Pinnock
Technical Project Manager & scrum master
Bart started his career in the heavy industry as an automation engineer. After that, he learned more about software development. Today, he helps to build bridges between the two. As a Project Manager and scrum master, he guides and coaches our teams in working agile. In his spare time, Bart enjoys the wonders of classical art and futuristic technologies.
Why Factry? "With experience in both industrial automation and IT, I was curious to find out more about the world in between. With expertise in administrative simplification and digitising workflows, I was the right man for the job. Whereas I used to work with outdated software systems, I was more than happy to finally step into the era of modern technology."
Your ambitions? "Help Factry close the gap between automation and the IT world. My part in that story will be to implement the scrum methodology, and continuously improve processes through workshops and coaching sessions. In the near future, my goal is to take my project management and coaching skills even further."
What I've learned so far. "Through organising and preparing these scrum workshops for the team, and by digging deeper into the Big Why, I have built a lot of new in-depth knowledge on topics that I was already familiar with. What is more, building the skills to organise workshops and give coaching sessions, has proven to be an experience on itself."
Wannes Vereecken
Software Engineer
Although his education was focused on web development, Wannes took his chances in the world of industrial software. He proved to be a quick learner. As our new historian engineer, he brings two years of experience in embedded systems and hardware. In the weekends, you will mostly find him hanging out with fellows in the local youth movement.
Why Factry? "I came in touch with Factry through a recruiter and was attracted by the company website. The job interview that followed, was probably the only one that was ever fun. I immediately had a great feeling about it. Also, the fact that Factry is a growing business, with no hierarchic structure between management and departments, appealed to me."
Your ambitions? "As I love being a backend developer, I am quite happy with my current job and eager to become even better at it. This job gives me the opportunity to grow in my role and continuously learn new things. As I am still at the early stage of my career, I still need to figure out in which direction exactly I want to steer it. Factry gives me this opportunity."
What I've learned so far: "Since I joined the company, I have already learned many interesting things, especially around the concept of DevOps. As all developers review each other's code, you are always well in the loop of progress made in other projects. This way, you can get a grasp on what other people are doing, learn from it or even help them."
Jeroen Lavens
Technical Consultant
With two Master's degrees in his pocket, one in IT and one in Economics, Jeroen felt ready to start exploring the world of industrial software. Currently, he is building his experience as a Technical Consultant, making sure new product installations keep running. As he is an investment enthusiast, he spends his free time crunching articles on financial topics.
Your ambitions? "Today, my core business is to help clients with technical support. In the coming months, my goal is to increase my development skills, and gradually evolve to being a full-stack developer. In the future, I would love to advance towards a job as development team lead, thereby combining development work with steering a team."
Why Factry? "I was also attracted by the modern look and feel of the website. The first job interview was cool, and happened only a few hours after we had our first contact. As I am keen on discovering new technologies, it felt like I could make progress here. I wanted a job that would help me learn new things outside of my comfort zone. That is exactly what I got."
What I've learned so far. "Our colleague Pieterjan 'DevOps' Lambrecht helped me in learning many simple yet efficient best practices, especially related to collaboration in a git environment. I could have figured this out on my own. Yet working with closely with people adds value to the experience of discovering the technical environments we work in."
David Dierickx
Software Engineer
As a freelance software engineer, David has been working with open source technology for years. Having a background in automation, embedded software, cybersecurity and IoT, he is adding value to our team on various technical topics. When he's not hammering his coding keyboard, he's probably out Lindy Hop dancing or performing on a theater stage.
Why Factry? "As a solo entrepreneur, I missed the daily interaction with peers. Therefore I was looking for a new job at an interesting SME through the Ghent Startup Map. I soon learned that Factry is working on familiar topics using open source tools. This immediately gave me the feeling that it would be a great match. A relaxed job interview confirmed this."
Your ambitions? "In the past, I have done quite a lot of development work within the same range as Factry's, however not in the specific format that is applied here. When I arrived at the company, I insisted on being part of the development team. This will enable me to reach the same level of coding as more experienced colleagues. This is currently my primary goal."
What I've learned so far. Being a part of an agile development team has given me a lot of insight into collaborative code development. I was used to solo development and there is only so much you can learn from the internet. Working in an agile team and receiving constructive feedback has already lifted some of my coding skills to a new level.
Join the club?
With many new exciting projects ahead, we are continuously looking to expand our team of experts with fresh talent. Are you interested joining our team? Take a look at our current job openings. Have any questions? Contact us.