Factry Historian V6.1: All you need to know
Jeroen Coussement on , updated
We're continuing our new year's resolution of quarterly Historian updates with our Q2 release: Historian v6.1. This quarter we focused on improving the user/administrator's experience by adding a few new features.
First and foremost we have added an intuitive Client Portal to our Historian software, which compiles the most important general information of your production within a few screens. Also in line with streamlining the Historian experience and workflow, we have published a Microsoft Excel Add-in. Say goodbye to csv exports and enjoy direct data query and retrieval. And last but not least, we have added the possibility of Manual Event Entry to our latest update.
Here's what to expect:
1. Historian Client Portal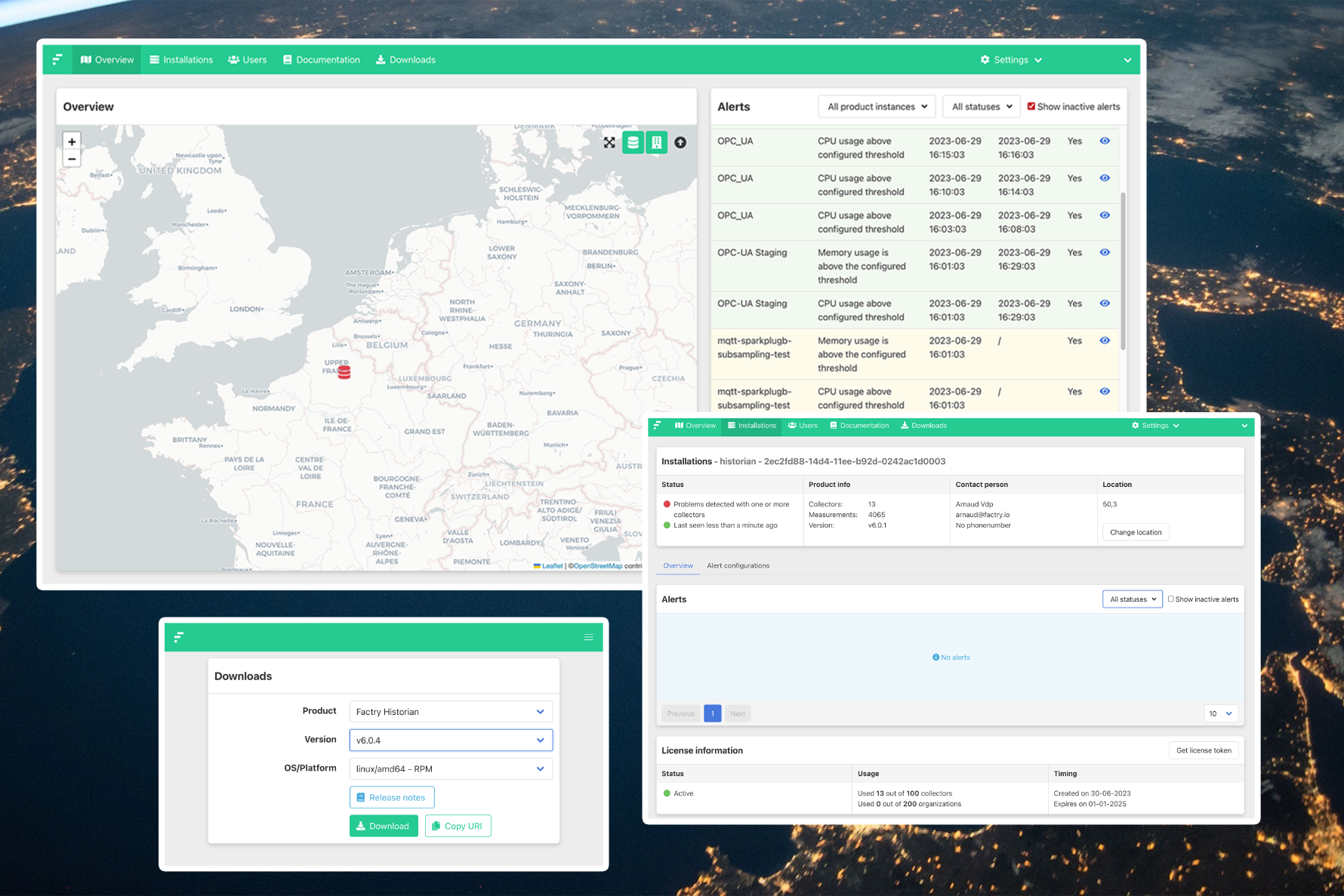 An administrator's job is not an easy one. Being the one responsible for the smooth-running of your production means keeping track of tons of different data. Especially if you are managing several production lines or even plants.
That's why we aimed to make your life a bit easier with our client portal! Get your most important data and alerts in the blink of an eye and stay on top of all things production.
What's included?
A Worldwide Overview of production sites: Gain a global perspective on your operations within the client portal. Access an intuitive dashboard with real-time alerts, and stay informed of critical events and issues across your production facilities worldwide.

Comprehensive Installation List: View a comprehensive list of your current installations and all components. Monitor the status of each Factry Historian server and all collectors, whether they are online, offline, or undergoing maintenance. With a clear overview, you can easily identify any potential bottlenecks or areas that require attention, ensuring smooth operations.

Latest Product Updates: Stay ahead of the curve with our download page dedicated to the latest product updates, so that you can benefit from the most recent advancements, enhancements, and bug fixes. Access and download these updates seamlessly through our client portal

User overview: Create new users, view existing users and manage roles. This useful user management feature allows for easy access to all necessary functionalities to keep your user information and permissions up to date.

Easy Documentation Access: Simplify your workflow by accessing all technical and user documentation in one place. With our Historian Client Portal, we aim to empower administrators like you by providing a user-friendly interface that consolidates vital production data and tools. Take control of your operations, make informed decisions, and enhance the overall efficiency of your production lines. Trust us to simplify the complex and help you achieve success in managing your multiple production lines and plants.
2. MS Excel add-in for Factry Historian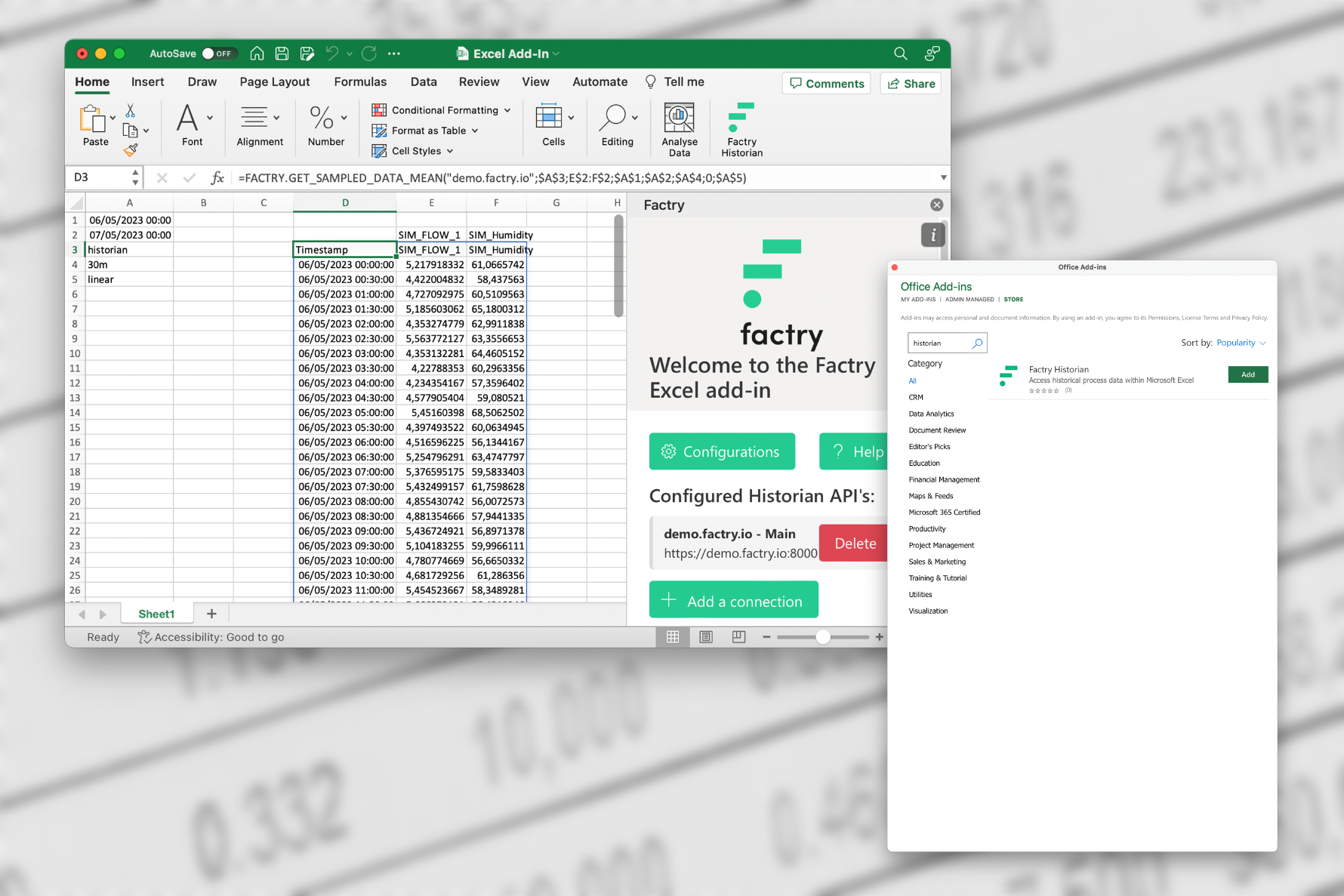 Querying your data from within Excel, without the use of CSV exports, used to be a problem… A problem the Factry Historian Excel add-in just solved for you. The add-in is now available in the Microsoft store, offering a seamless and efficient solution for accessing and analyzing your historical data directly within Excel.
What does the Factry Historian add-in bring to the table?
Streamlined Data Querying: With the Factry Historian Excel Add-in, you no longer have to rely on exporting and importing data in CSV files. The add-in simplifies the process by enabling you to directly query and retrieve data from Factry Historian, all from within Excel. This streamlined approach saves you time and effort, allowing you to focus on data analysis and decision-making.

Real-time Data Updates: Stay up to date with the latest data by leveraging the real-time capabilities of the Factry Historian Excel Add-in. Seamlessly connect to your Factry Historian database and retrieve actual data directly into your Excel spreadsheets. Track key performance indicators (KPIs), and make informed decisions based on the most current information available.

Microsoft Store Availability: The Factry Historian Excel Add-in is readily available in the Microsoft Store. This means you can conveniently download and install the add-in directly from the store, ensuring compatibility and easy updates as new features and enhancements are introduced. Enjoy a hassle-free experience with reliable installation and effortless access to the power of Factry Historian within Excel.
By leveraging the Factry Historian Excel Add-in for MS Excel, you can maximize the potential of your historical data, streamline your analysis workflows, and make data-driven decisions with confidence.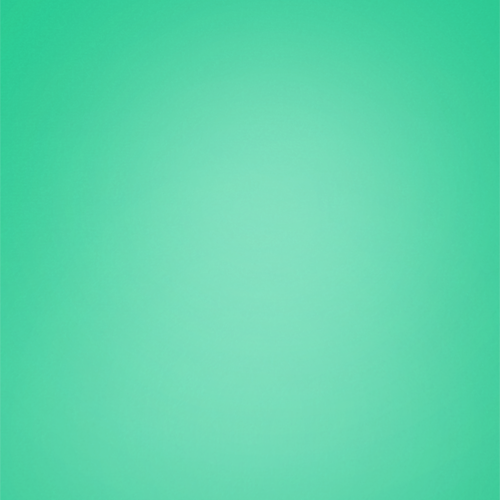 Already using Factry Historian?
Follow this guide and search for Historian
3. Manual event entry in Factry Historian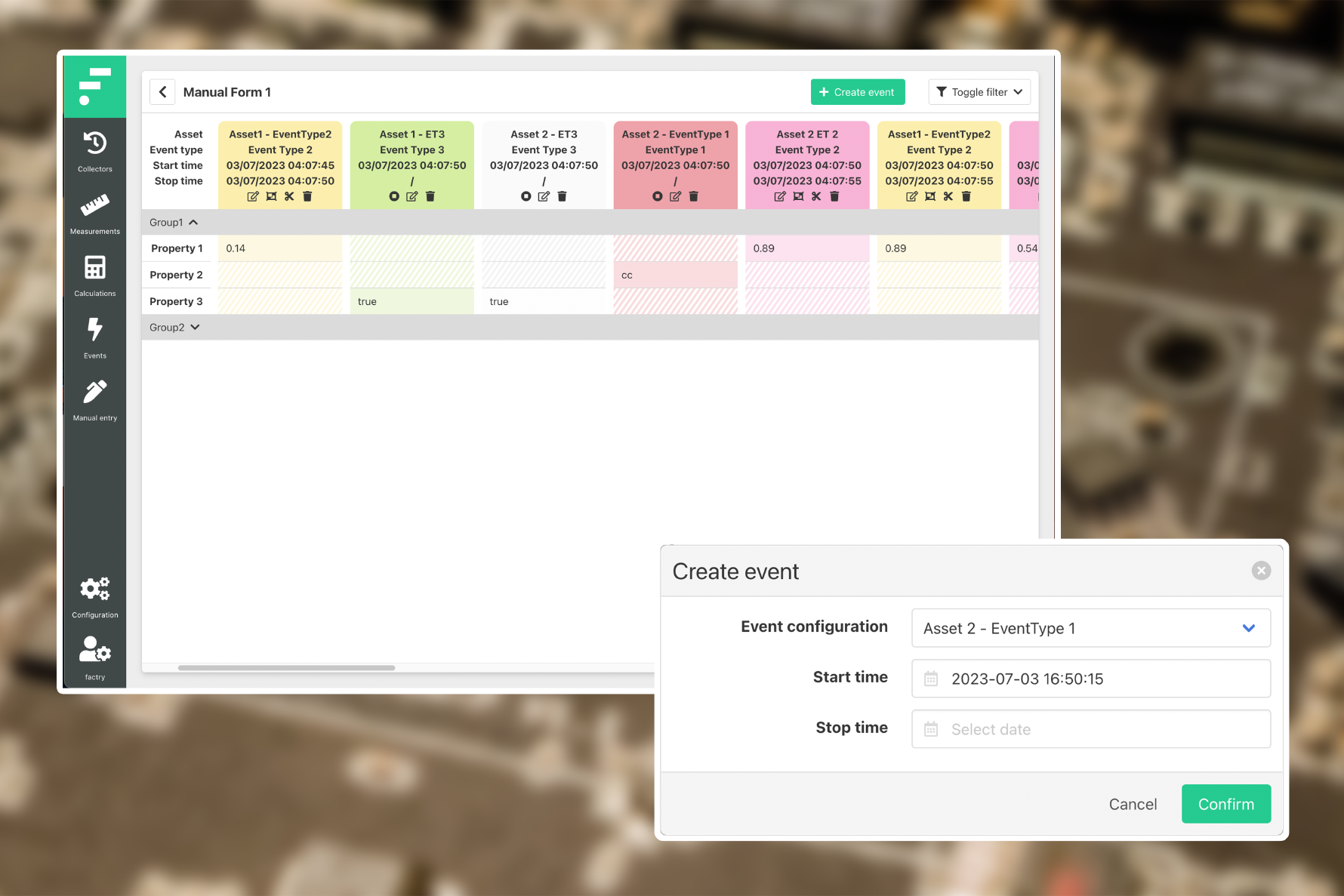 We're committed to expanding the freedom of entry within our Historian software, and we're excited to introduce a new feature that complements the manual data entry tool we introduced in the V6 update. Say hello to the manual event entry function, which empowers you with even more control over your data.
With the manual event entry tool, you can now
Manually Start and End Events: Take charge of your event management by creating and stopping events manually. Whether it's a production run, a maintenance task, or any other significant occurrence, you have the ability to manually start and stop events directly within Factry Historian. By recording the exact start time, you ensure accurate tracking and documentation of events as they unfold.

Manually Edit Events: We understand that circumstances can change, and flexibility is key. The manual event entry tool allows you to modify event details as needed. Whether it's updating event parameters, adjusting start or end times, or adding additional notes, you can easily make changes to ensure your event records accurately reflect the evolving situation. Maintain precise records and keep your event data aligned with real-world scenarios.
With the manual event entry tool in Factry Historian, you gain greater flexibility and control over your data. Seamlessly integrate manual event management into your existing workflows, complementing the automated data acquisition capabilities of the Historian software. This feature empowers you to capture every aspect of your operations, even from equipment that is insufficiently instrumented, ensuring accurate and detailed event records that facilitate analysis, troubleshooting, and performance evaluation.
As your needs evolve, Factry Historian continues to provide innovative solutions that enable you to capture, manage, and derive insights from your industrial data. Embrace the new possibilities for precision, adaptability, and comprehensive data tracking within your operations.
All about Factry Historian


The open data management platform for Industry 4.0